Thanks to you, all their yesterdays are over!
Giving Tuesday is a day when people everywhere come together to do something to support the causes and communities that mean so much to us all. Please remember the dogs and cats in need of rescue by supporting Satchel's this coming Tuesday, November 30. Your support over the past year has given so much hope to dogs and cats looking for a safe haven while waiting for their person to find them and give them their forever home. Some fur babies stay with us for just a few weeks, others months or even years. Almost all find their match over time and your donations give them that time.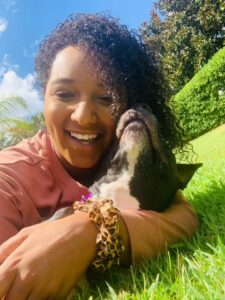 Rumor came to Satchel's in July, 2015 as a young girl. She had no training and was somewhat of a "wild child" and unpredictable around other dogs making it difficult to find her forever home. Over time, with training, lots of love and many visits out of the shelter, Rumor calmed down and the Rumor we all knew was in there shone through showing everyone her beauty, inside and out.
After six years at Satchel's, Rumor's found her perfect family and home. She adores her adopted mom, Sarah and her now 4-year-old sibling. Sarah tells us that Rumor's favorite outside activity is jumping as high as she can to catch her ball, playing this game as long as possible until she feels it's time to chill out on the back porch couch. Rumor spends lots of time with her family taking many car rides, enjoying plenty of walks and going to work with Mom where she loves everyone she meets. Rumor looks forward to nights when her human brother gets a bedtime story. She lays down on his bed during story time and when he is safely tucked in for the night, Rumor retires to the big bed with Mom, checking on her brother during the night, and being right there by his side sharing sweet dreams in the early morning. Sarah is so happy that Rumor has come into their lives and says she can't imagine how they ever lived without her! Sarah says "Rumor was definitely the missing piece to our family".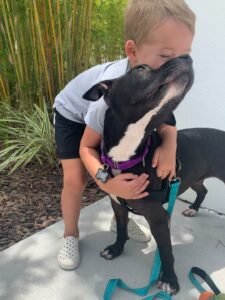 Her adoption follow up story and photos brought tears to the eyes of all of us at Satchel's who watched this girl grow and finally find her family. Rumor's stay at Satchel's may have been a little longer than we had all hoped, but what a wonderful dream life she's living now. All thanks to YOU for helping provide care for this angel until her time came.
Please support our mission and give dogs such as Rumor and cats the time they need to find their perfect home. Donate through our donor software Satchels Last Resort Inc – 2021 Giving Tuesday Campaign (networkforgood.com) or through the Flanzer website Make a Donation – The Louis and Gloria Flanzer Philanthropic Foundation (flanzertrust.org) to have your donation matched.
Here are a few more photos sent to us from other Satchel's adopters showing our dogs and cats blissfully living in their new homes. Thank you for your support!