Second Chances Will Lead Us To True No Kill!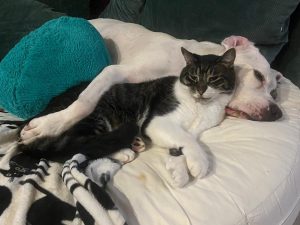 Satchel's has been a true no kill shelter and sanctuary for 20 years.
No kill simply cannot happen without shelters like Satchel's where animals have the time they need to heal from medical treatments or emotional trauma and where animals can be non-judgmentally surrendered without being euthanized. Most shelters will not accept owner surrenders and county shelters euthanize them. We've proven that owner surrenders can be successfully rehomed by taking in 122 animals during the pandemic and adopting out 119. It is understanding an animal's needs or triggers, meeting or working through them and then, taking the time to find them the right home. Second chances will lead us to true no kill.
Learn More About Our Planned Giving Options
Help Us Continue Our Mission
We want to continue to be the face of a true no kill movement within our community, your legacy gift to Satchel's will help us do that. Help us to continue to save lives for years to come by putting Satchel's in your will, trust or other financial plan. Just a small percentage of your assets will save many lives. It's easy! Just provide the following information to your attorney and discuss how you would like your gift to be used to help Satchel's mission to Rescue, Rehab and Rehome dogs and cats with nowhere else to go because of breed, behavior or medical issues.
Satchel's Legal name – Satchels Last Resort, Inc.
Address – 8101 Coash Road, Sarasota, FL 34241
Our tax ID (EIN) – 04-3585931
To speak with a Satchel's representative regarding our Legacy Program, please email info@satchelslastresort.org.