Sadie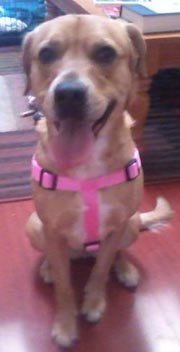 Formerly known as Sarah
Hi to all my Dear Friends at Satchels!
Well it's one month ago today that I found the BEST HOME ever!!!! I love my mom and she Loves Me So Much!!! Mommie is So impressed with my good manners (when she eats, I don't look at her) and says I am already So Smart and learning everything so quickly – I'm exceeding all her expectations she says to friends! I'm getting lots of exercise (and so is she!!), lots of walks, dog parks and playtime in the house every waking moment that she doesn't have to go to work. We are working out together like a match made in heaven!!!
Mommie had to take me to the vet when she found black stuff in both my ears – turns out I have had bad ear infections in both (why I probably didn't like my ears touched when i lived there). The vet had me on an ear wash, ear ointment and i finished my antibiotic pills, and I feel so much better now!!!
I love my home too!!! I have so many cool, fun toys and it's big with lots of rooms to explore. I've been very good, no accidents or anything! I don't even stay in a crate anymore when mommie's at work! That only lasted about 1 week – and mom knew she could trust me to be a good girl (she comes home every day at lunchtime just to see me – she says I wag my tail and my whole body shakes – she calls me "Wiggle-Butt then)!!!
There's lots of doggies that live here too to sniff when we go on our walks morning and evening – and all the neighbors are happy that mom got me! Mommie tells me every single day that I'm such a good girl, and adorable, and beautiful and she loves playing with me in the house too. Only once did she say I was playing 'too hard' and got aggressive with her, and she said "NO SADIE" and I don't do it anymore unless i'm caught off-guard – and mommie knows I don't mean or like to be bad because she loves me so much. She says I'm showing so much promise too, because she says I'm such a Smart little Doggie and she Loves that – she talks to me All the time and I've already learned so Many New Words (I'm happy too that I know what she's saying!!!). She told me her old dog was very 'brilliant' and I want to live up to her reputation – Mommie loves me so much (and I love my mommie too for taking such good care of me and is very affectionate – I get to sleep with my mom on the bed all night too!)
Thanks you ALL SO MUCH for taking such excellent care of me till I found my forever home ~~~ I'm so grateful for all of you and wanted you to know I'M SO HAPPY NOW!
Love Always,
SADIE
PS. Mommie tells all the people in dog parks, at our vet, and friends possibly thinking of rescuing a dog to go to Satchel's – she tells them you're the best she has ever seen!!!! and you are – I KNOW! XOXOXOXO