Meet Jack and Tiger!
Meet Jack and Tiger, young 8 month old cats looking for their forever home(s). These babies love playing together and would make a great adoption pair but can also be adopted individually.
Jack is a strong, lean short-haired gray and white tabby kitten. He's a lover boy who doesn't mind being carried like a baby. He will follow you around the house to be with you and get caresses. Jack has been in the company of his siblings and loves to play!
Tiger is a sweet petite gray and white tabby kitten with medium-long fur. Tiger is smart, loves to sleep in baskets, and to play with other cats. Tiger likes to be in the same room with you, and to be petted. He has been with other cats and likes their company.
To meet Jack or Tiger, please submit the adoption application (no commitment) found on our website,
www.satchelslastresort.org
, an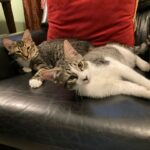 d an adoption counselor will be in touch.