Scooter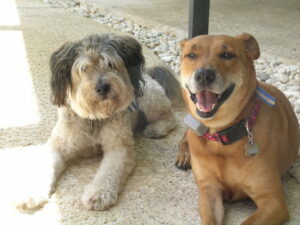 It's been a while but I wanted to give you a little New Year update on our beautiful Scooter who we adopted from you several years ago! 2010 was a good year for her though she still has not been able to catch a squirrel. The odds of her catching one do not look good either as she is starting to get "up there" in age. In fact, she doesn't chase them with the vigor of her youth! She is starting to show her age now with a little gray around her face but you would never know it when she's on a walk.
She spends her days keeping us company while we work and gets very excited when it's time for her walk. She always knows it's time before we even say anything to her. She is still inseparable from her brother Bula, the Wheatten Terrier. Earlier in the year Scooter did suffer from facial nerve paresis which had us extremely worried but it appears to be fairly common in dogs and causes no pain or discomfort. She's just a little lopsided these days.
Scooter is the kindest, most gentle dog we have ever known. She has never growled at us or our children and has always been so incredibly sweet. Should your thoughts ever wander to that "red dog" know that she couldn't possibly be more loved!
Wishing you a Merry Christmas and a wonderful New Year!