Sassy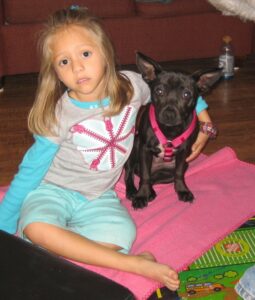 Sassy's introduction to Tashy, our daughter, this morning was incredible. Sassy was awesome with Tashy, and Tashy was thrilled to have a new puppy "sister." Sassy, however, is no longer "Sassy." She has responded very well to her new name, "Maisie," which was Tashy's immediate and unequivocal decree.
The day has been full of excitement: a trip to PetSmart for a new harness (pink, of course!), dog food, training treats, nail clippers, and other doggy paraphernalia. Then a quick nap in the car with Tom and Zak while the other girls darted into a party store for a few supplies for the birthday party. Several walks around the property throughout the day — despite the wind and cold temperatures. Lots of ball chasing inside. Even a bath! It is now 10:45, and Sassy/Maisie is dreaming on Tashy's bean bag chair.
We have taken some pictures to capture just how well she's been doing, but there's really no way to explain it. She is such a magnificent dog — patient with a birthday-jazzed 6 year old, warm and loving to adults, curious about the world around her, polite to the dogs we met at the pet store. It seems, in just half a day, that she has always been with us.
Thank you all! If not for Satchel's Last Resort, Sassy/Maisie might not be here on the planet, much less here with us. We so appreciate the work you do.
Carrie, Tom, Zak, Liza, and Tashy