Riley…the story of a rescue dog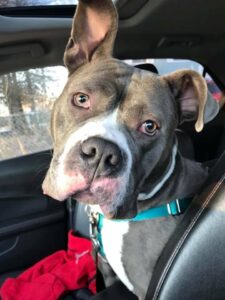 Meet Riley! This poor sweet girl certainly hasn't had it easy despite all who have tried to help her. Her story, like many rescue dogs that we encounter, is one full of ups and downs, twists and turns, but it's not over yet. In fact, we're only telling you the beginning of it as we need your help in determining its happy end! You probably guessed it; Riley is on her way to Satchel's! That's right, it's not a spoiler alert! Riley is coming and still has a long journey ahead of her, both physically and emotionally. She'll travel to Ohio this weekend before beginning her travels to us, so please sit back and join us as her story unfolds and be a part of it by making a gift towards her care today!
PLEASE DONATE TO RILEY'S CARE TODAY
Riley's rescue journey began when she was confiscated at approximately 4 months old from a hoarding situation somewhere in Stark County, Ohio. Life didn't seem much brighter to Riley as she lived in a cage at the Stark County Warden for another 4-5 months while the case was heard in the courts – only to be placed on the euthanasia list after it concluded!
For a brief time, hope was on the horizon for Riley when she was rescued from certain death by someone who might have had good intentions but failed her. Unfortunately, her rescuer confined her to a crate in a dark basement, along with another dog with little to no outside human interaction. How much more could this poor girl take? Thankfully, the ill-fated actions of this person were soon discovered, and it seemed Riley's situation was to be changed forever. Riley experienced what true rescue looked like when The North America Rescue Coalition (NOARC) got involved.
It was December of 2018 and Christmas had come early for this precious soul who, until this point, had experienced nothing but hardship in her first year of life. NOARC committed to providing Riley with the life she truly deserved and immediately sought a foster home for her before having her completely vetted. At the vet, it was discovered that she was horribly malnourished from her crated life in the dark basement with little food or water (she gained 15 lbs. in the 1st month with NOARC). She also suffered from seasonal skin allergies (the redness seen on her face in pictures) and a bad ear infection. In addition to her medical needs, Riley also suffered from anti-social behavioral issues like incessant barking, extreme exuberance and play mouthing everything.
NOARC, who desperately wanted to give this baby every opportunity to move on to the life she deserved, sought a behavioral assessment from Ohio State University's Veterinary Medical Center. The diagnosis came back that poor Riley suffered acute anxiety stemming from genetics (altered brain chemistry due to stress experienced from her mom while in-utero) and lack of socialization (from her experiences of maltreatment when she was a pup). The behavioral team that evaluated Riley labeled her "a special needs dog" for life and recommended daily anti-anxiety medication to mediate her aroused state so that she could successfully partake in behavioral modification training. While Riley did finally respond to the patience and love from her foster mom, finding a suitable home for Riley proved difficult.
NOARC knew that they had to find an experienced permanent home for Riley that could satisfy her many needs. Having one potential adoption fall through, they reached out to Satchel's Last Resort, aware that we specialize in dogs and cats in need of medical and behavioral interventions, in hopes that we could help. Unfortunately, we had no space and as hard as it was, we had to say no. They continued to search as Riley deserved it. Meanwhile, Riley was always on our minds and we were working hard to make room for Riley by adopting our dogs to suitable homes.
In early March 2019, NOARC got news that they had been waiting for-a sanctuary in Texas that specializes in accepting behavioral cases like Riley's had an opening! Not wasting any time, they rushed to make plans to take Riley there. The president of NOARC herself, Adeline Syring, would safely deliver Riley to the sanctuary! Soon after that, we too, had a space for Riley open, so we reached out immediately to NOARC. Although NOARC was grateful, they informed us of Riley's placement and her ensuing journey. Although sad we wouldn't be able to meet Riley, we were elated to hear that she had found placement and that Riley's space would save another life at our shelter.
In just a few days, the kennel we were saving for Riley would be available to take in another dog needing rescue. The stars always align, and it was just a matter of hours before we received a plea to take in Midnight. Midnight had a bit of a rough start also. Approximately 18 months ago, a good- hearted citizen found Midnight roaming the streets alone and afraid and, when no owner was found, he took this girl in and gave her a loving home. Well, unfortunately the story doesn't end there for Midnight; military service called, and her new companion was deployed on short notice. A neighbor, who was unable to keep Midnight herself, started reaching out to rescue, and through networking, contacted Satchels. The space we had been working on for Riley – which could now help Midnight, wasn't going to be available for a few days, but our community is very lucky to have so many wonderful organizations working together to save these animals! Jennifer Hummel from Ace Pet Resort immediately offered free boarding for Midnight until we could take her. Midnight was saved!
Meanwhile, Riley had quickly kissed her foster mom good- bye and began her journey to Texas, stopping in Kentucky, Alabama, Mississippi and Louisiana before finally arriving at the SARA Sanctuary in Sequin, Texas. Riley loved her rather long journey, but once they arrived in Texas, it was time for Riley and NOARC to part. NOARC was sad to say good-bye, but tears were mixed with pride and joy that Riley would be happy at her new home receiving the needed behavioral interventions until a permanent home could be found.
Sadly, it wasn't long before tragedy would strike once more in poor young Riley's life.
Not long after Riley had settled into her new digs, SARA experienced devasting financial news and discovered they would have to curtail operations significantly. They reached out to NOARC and asked if they could take Riley back. Adeline, NOARC's president, was devastated. She immediately contacted us and asked once again for our help. This time, we were able to say yes! With all that Riley had experienced, we just knew that she needed us. So, we set to the task immediately and before we knew it, with a change of fate, Midnight got adopted! Midnight, the dog that we were able to rescue because we made room for Riley the first time, had now returned the favor. One life gives to another! So, sweet Riley once again begins her journey, this time to Satchel's, and we invite you to be a part of it. Riley is scheduled to travel back East with other rescue animals being placed from SARA. Stay tuned for more Riley updates!