Pepsi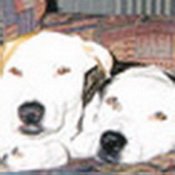 Pepsi is a pit bull who now answers to the name Macy. She lives with a wonderful couple who takes her and her pit-mix brother everywhere they go. She has a big fenced-in back yard and her family takes her to the doggie park at least a couple times a week where she gets to play with lots of other dogs.
Pepsi's original owner truly cared for her, but the owner's husband disliked Pepsi and the feeling was quite mutual. Pepsi didn't care much for her owner's brother either. As a result, Pepsi spent most of her time outside on a chain or closed up in a bedroom. She became unsocial and her owner feared she might bite someone or fight with other dogs in the neighborhood.
We weren't sure we would ever be able to adopt out Pepsi. For a long time, she was very fearful and while she never snapped at any of us, her body language kept us wary. Her turning point came the day she fell in love with a crippled puppy who came to stay with us. She played with the puppy and then began to play with us. Pepsi, though now much happier, didn't seem to be thriving in our kennel environment; so one of our volunteers told some friends about Pepsi. They'd been thinking about getting a friend for their dog – and that friend became Pepsi/Macy.