Our boy Bronson is home!
Our supporters will all remember his story but here's a quick recap of how Bronson ended up at Satchel's for any of you unfamiliar with Bronson. It was one evening last November, when Doug, our director, received a phone call from a local county shelter pleading for Satchel's to save this young dog who had been shot and left to die in a ditch. Not much pleading was needed and the next day Bronson joined our family. I remember fondly the long ride from Arcadia to Beach Vet in Cortez, Bradenton – Bronson trying desperately to sit on my lab and smother me with kisses. He was clearly in pain but he knew he was safe now and was so thankful. This sweet handsome boy had a gaping hole where the bullet had penetrated. It looked like it was meant to be a kill shot aimed at the heart, but it wasn't Bronson's time to leave this earth and the bullet missed it's target by a fraction. Bronson also was found to be heartworm positive and not yet neutered. Getting him through the healing process of the bullet, then heartworm treatment and finally neutered was a long ordeal for Bronson who had to be kept in a small kennel throughout the entire 6 months. Finally in early summer he was ready to be adopted but we weren't going to hurry the process. We were looking for that special home for Bronson where he will never have to worry again about being left to roam and getting himself into trouble with a neighbor who may think the easiest way to get him off his property is to shoot him and leave him for dead. The bullet will remain with Bronson as it can't be removed because of its location, but hopefully memories of his life before Satchels will be erased as he feels the love of Adam every day. Congratulations Bronson and Adam!
Another successful Satchel's Rescue-Rehab-Reho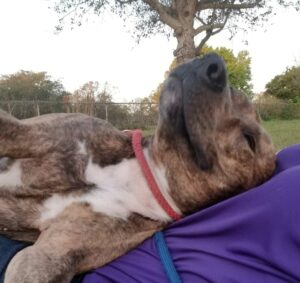 me story that brings tears to my ears as I write this.