Mel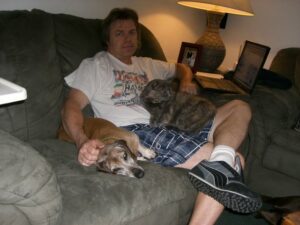 Thank you so much for bringing Mel into our lives. While I might be just a bragging mommy, Mel is pretty much the best and most perfect dog in the world. Being just 12 years young, he adjusted to our pack in in about an hour.
He loves his doggie brother and sisters and loves all his kitties. It's as though he's been here his whole life! As far as any difficulty with men, you wouldn't know it. He absolutely adores his dad acting positively puppyish around him. He has even started to do the same things as his dad!
I call him the Einstein of pups. He has enriched our lives so much! I don't know why anyone wouldn't adopt a senior pup, especially one from Satchel's.