Maggie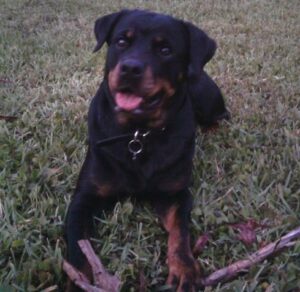 Formerly known as Princess
My name is Shay, and Gary and I have adopted Maggie (then named Princess), a wonderful 5 yr old Rottweiler last February. Happy Tails have inspired me to write yet another happy and successful story about one of your dogs.
When we adopted Maggie, she was only 60 lbs, very energetic, but suffered from what our trainer believed to be dog and people agression. After taking her to several private classes in PetSmart, and lots of love, treats and toys, she came around and turned into the best dog. We could not imagine our family and home without Maggie. Everywhere we go, she is a favorite. She politely greets everyone, and offers her kisses in the exchange for affection. We always say that she is the most affectionate dog in the world. Coming home each day and finding Maggie laying on the sofa is the best thing ever! She loves chewing on her peanut butter stuffed Kong.
We have never seen a dog that loves kisses more than Maggie. Even though she is now about 80 lbs, we are pretty certain she thinks she is a lap dog. Maggie is yet to figure out that all she has to do in a car is stick her head out the window and enjoy the ride, but oh well.. we still love her.
We could not be any happier to be priviledged to provide a home for such a wonderful pet. Thank you so much for helping us find Maggie. Maggie's unconditional love is truly inspiring, and we hope that all your wonderful dogs find a home they deserve.