Louie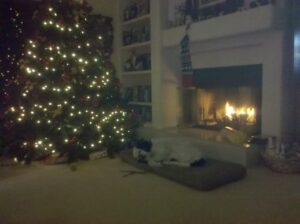 I was introduced to Satchel's Last Resort as a volunteer, and had the opportunity to meet a and play with number of the dogs. I can tell you that having had a chance to get to know the team at Satchel's for a few weeks, the dogs could not be in better hands. These are wonderful, caring people doing a great job and I thank God that they are there. I would recommend volunteering as a great way to get to know the dogs that are available to anyone interested in adopting.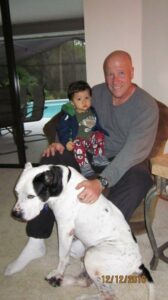 On my first day as a volunteer, I met Louie, a twelve year old American bulldog/ Staffordshire terrier mix. It was hard to believe how badly neglected he had been, but Satchels' did a wonderful job nursing him back to health. Although he was exactly the opposite of the dog I was thinking I wanted to adopt, it was love at first site. A couple of weeks later we brought Louie home for a test ride. We fell in love with his sweet nature immediately, even though he can look a little intimidating to strangers. He has since turned into the perfect dog and it seems like he has always been here. He loves to be with us, listens to all commands, gets along with the neighborhood dogs, and is a great protector. His health has continued to improve and he looks great for a 12 year old. People are always surprised when I tell them how old he is. We are really glad God brought him to us, he deserves all of the love and attention we can possibly provide. He is the best!
I wish more people knew about Satchel's and the great work they do and the dogs that are available.
David