Hope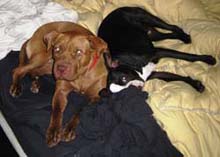 Hi Everyone,
Joe and I wanted to send over some pictures of Hope. She is doing so well and fit in with our family perfectly. We have no complaints at all. She is so sweet and listens better than Louie (our other dog) who has quickly become her best friend.
We couldn't ask for a better couple of dogs. We've actually had a run in with a friends dog at our house and Hope did really well then too. She was actually very playful and not aggressive at all… a big relief to me! I attached some pictures of her and Louie around the house. They have more toys than they know what to do with! We are guilty of spoiling them.
Anyway, I just wanted to say thanks and that we are so happy as is Hope. We will keep in touch. – Holly, Joe, Louie and Hope!