Drummer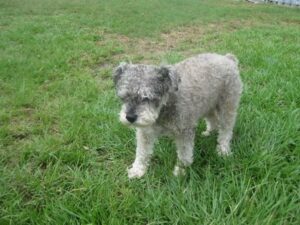 Drummer was one of three little terriers owned and loved by a woman who was losing her 20 year battle with breast cancer. The other two were easily re-homed, but Drummer was a tad feisty and she was having no luck finding a person or a rescue willing to take him. As a last resort, she hired a trainer to "break" little Drummer, in hopes that he would become more adoptable. A person who helped take care of the woman was at one of those sessions and called us in tears, begging us to take Drummer. We did and his owner died in peace two weeks later.
Drummer was a bit of a handful when he first came here. We gave him his space and as he was learning to trust us, we learned that as long as we told him what we needed to do…."Drummer, I'm going to pick you up and put you in the car,"….or "Drummer, I need to put this muzzle on you because the vet has to give you your shots," he tolerated us. He aged, he mellowed.
Almost a year ago, he had his first stroke. We worried over this little dog who had come to own our hearts and it was touch and go for several days. When he recovered, he had a tilt to his head and it took him a while to walk normally again. Of course, normal in Drummer's case was hopping like a frog. He would hop all over the yard and simply dare you to catch him. We described him as the happiest little dog you could ever see, as long as you did what he wanted you to do. He began sleeping more and more and was fast approaching 17 when he had another stroke. He stopped eating and began running a fever and we knew it was time to let Drummer hop to the Rainbow Bridge with all his friends.
He blessed us with his presence and will be missed by all who knew and loved him. Go easy Drummer, you always marched to a different tune.