Riley has arrived!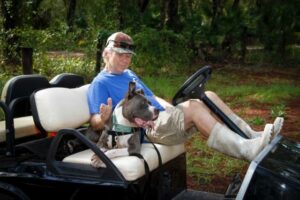 Remember Riley? That dog who was rescued, shuttled across the country only to find herself still searching for a place that could give her the second chance that she needed? Well, look at her now! She has transformed into a wonderful companion thanks to YOU, the star of her story, and to all of us at Satchel's Last Resort who have given her the patience, love and training that she needs to thrive.
Photo credit:
Susie Chinn @ susiesparadiseportraits.com
PLEASE DONATE TO RILEY'S CARE TODAY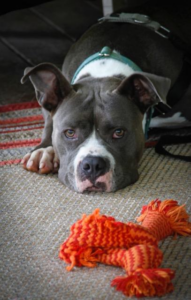 After a quick journey from Texas to Ohio to Florida, Riley has finally made it to Satchel's! This sweet girl took no time in settling into her new digs and has been enjoying life at Satchel's ever since she arrived just weeks ago! She is pictured above with one of her biggest fans who ensures that she gets plenty of daily enrichment with long walks and golf cart rides. These are just some of the treats that she receives before she starts the hard work of almost daily intensive behavioral modification training.
Satchel's is fortunate to have two of the area's most respected behaviorists, Dawn Camis Bennett and Christine Christian working alongside her. These two highly regarded trainers are helping Riley with many of her problem behaviors, but more importantly, Riley is learning to establish her 'bubble' of safety from other dogs, whom she responds to with severe aggression. Kudos to Riley for all her hard work and to all of those helping to rehabilitate her for her next BIG step…rehoming.
That's right, Riley already has several people interested in providing her with a forever home! The staff and volunteers at Satchel's couldn't be happier, however we hope that you, too, can celebrate with us in the success of Riley's rescue story!
While we pride ourselves on rescuing, rehabbing and rehoming dogs and cats with stories just like Riley's, you're the true hero! Without your support, we can't do what we do for the many animals that need us! That's why we still need your continued support to save more animals like Riley, so please make a gift today to help more like Riley to succeed!
PLEASE DONATE TO RILEY'S CARE TODAY