Dash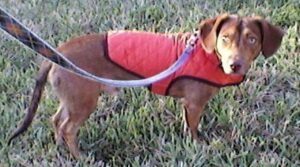 Dash is doing a little better with everything in his life these days. Saturday we took him to a dog park in Estero – and we were probably there 2-3 hours. He had a ball!! He played and ran and played some more with other pups his size, off-leash. The area is fenced in of course. It was such a delight for both of us to witness him happy and having fun. This is the dog I know that he is and can be. We plan to make many more trips down there!
He's been around other people and dogs and we are trying to socialize him – he's okay with it. Still timid. We had to get him a little jacket – since it's 39 degrees this morning!
He's eating well; he's been to see our vet. . . and seems to be doing just fine. We will continue to work on his behaviors, and he's still shy of Paul and other men, but he does sit between us on the couch and puts his little head in Paul's lap – so that is Progress!!
Thank you all again SO VERY MUCH!