Care Bear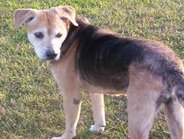 Care Bear was very picky. He didn't like or trust too many people. Those he did, were rewarded with an almost puppy-like companion who gave kisses and loved to be petted.
Care Bear's former owner became disabled and his housing arrangements did not include Care Bear. He ended up stuck at the vet's office for almost six months.
We were hoping that in a different environment Care Bear would have a positive attitude adjustment. He didn't but had a home with us until he crossed the Rainbow Bridge.