Bree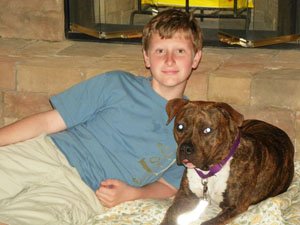 Formerly known as Brownie
Can I just tell you……. I. love. this. dog!
She is amazing. She is beginning to anticipate the routine of our workweek schedule after only a week. She is so smart.
Bree now wags her tail when greeting us more often than not. We're honored by this. Didn't expect it this soon. Today she rolled over for me to scratch her belly. Never thought that would come this soon! She is definitely a Momma's girl. Just ask the boys.
She loves to play soccer in the side yard (wow, is she good!), play fetch with sticks or the rope toy and go for loonng walks with Connor, my son. If I kneel down and open my arms, she will come running to me. You'd have to see it to believe it.
As far as entering the yard we have found the trick………… stand beside her middle, give her two loving pats to her side and say "Come on, Bree" and she comes unfailingly.
I thank God she waited for us to come get her from Satchel's Last Resort. She is finally home.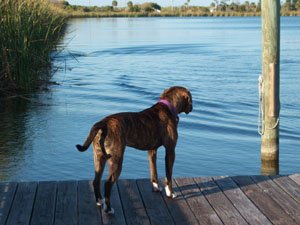 Thank you (and everyone there) again for what you do.
Jane