Let's help Reva walk, run and play!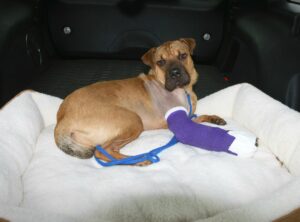 This 9 month old girl named Reva has had surgery on one leg and she is doing fantastic! Her surgeon is very pleased. But, we need to continue to raise funding to pay for the procedure and then have her other front leg surgically corrected. This is the only way she will be able to walk, run and play. Her prognosis is very good and her spirits are high. She is loving life! Even her doctors all say what a great dog she is – an excellent patient. So please share her story and let's make right this wrong. Reva was neglected and denied medical care when she needed it most and suffered with two broken front legs for months. Reva was found as a stray dog in Sarasota County in this horrific condition.
Please donate and share so Reva will know she is safe, loved and cared for. Thank You!
Click on the following link (copy and paste) to donate for Reva:
http://www.youcaring.com/pet-expenses/help-reva-get-back-on-her-feet/348714