Elsa stopped by for a visit and we had a fabulous reunion with Buckeye, Tega, Elsa and several staff.  We were so excited to see her and as you can see, the feeling was mutual.  The fur kids had a ball running through the field, jumping, playing and cuddling with us.  It is absolutely amazing how these dogs never forget their time with us and the love you share is there forever.  Although there were a few tears when Elsa had to leave again but they are happy tears and you know what?  She will be back for more visits ♥  We love you girl ♥
Little Harper had a broken jaw that needed surgery so she could have a bright  future. Once recovered, we finalized her adoption So congrats to her new adoptive Mom (on left) pictured here with her foster Mom (on right) – you Moms are the best!  Fostering saved this life!   Thank you so much for your dedication, love and time ♥

Pet of the Week!! Merry – this sweet 2 year old black lab mix is an active, loving girl that loves to play with toys, go on car rides and lots of walks.  She loves to play in the field with her room mate Houdini.  They both run and chase each other with toys.  Merry is spayed, up to date on vaccinations and micro chipped.
If you are interested in meeting her, please fill out an application or e-mail us at comments@satchelslastresort.org
The first day I met Willow she was scared, very thin, full of fleas and parasites.  She was still sweet as could be.  Manatee County Animal Services tested her for heartworm and she tested positive.  Everyone was heartbroken.  As I walked by her (to look at another dog in need) she looked me directly in the eyes and slowly put her leg around mine and pulled me close to her.  So, of course, I had to ask what her story was and the staff went on and on of how wonderful she is and please take her too.  She was a stray dog and in rough shape but so deserved a chance.  (Willow had already sold me) So, what do you do when you have two dogs in need and only space for one dog?  Go to the parking lot and start calling everyone you can to find a foster home!  And we did, we found a foster home!  After several months of medical care to build her back up to a happy, healthy girl, Willow finally met the man of her dreams, a nice boy named Murphy.  Murphy brought his parents over to meet Willow, packed her up and moved her to the East Coast to live happily forever.  To think Willow, now named Riley and her Cinderella story almost didn't happen……but a foster home saved her life and helped make all her dreams (and ours) come true ♥ Thank you so much to all our foster homes ♥  (Riley on the left and Murphy is on the right)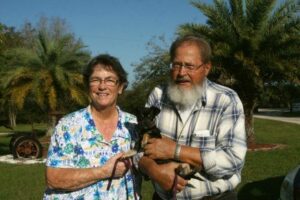 This lucky boy has found his forever home ♥ Preston was pulled from Manatee County Animal Services when they were hit with 3 hoarding cases just days apart.  Several Animal Shelter/Rescues from all over the region stepped up to help care for so many animals in need.  We are so fortunate to have a great working relationship with both Manatee and Sarasota County Animal Services and other area Rescue Groups whom are so dedicated in making a difference in our community.  The last update I received from Preston's Mom was "he runs around the house playing like crazy – having so much fun – and we really enjoy watching him"  Such a different life now, huh Preston?  Congratulations buddy – you deserve this…..